À notre sujet
Cette page n'a pas été traduite en français.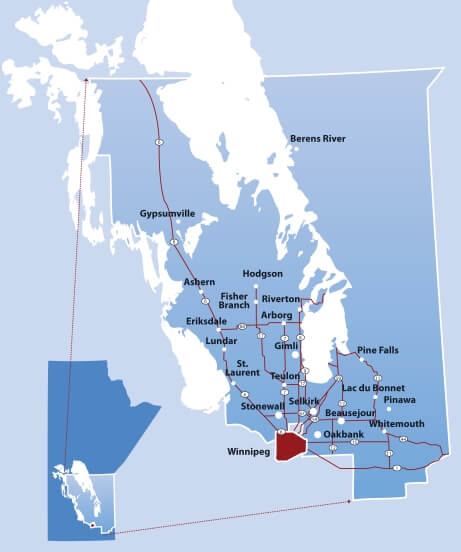 Interlake-Eastern Regional Health Authority is responsible for the planning and delivery of health care service to meet the needs of the population we serve.
With an area of 61,000 square kilometres, the region extends east to the Ontario border, north to the 53rd parallel, west to the eastern shores of Lake Manitoba and south to Winnipeg's north perimeter dipping down just past Winnipeg to slightly below the Trans-Canada Highway eastwards to Ontario. A significant portion of the region is considered northern with a remote area accessible only by air, water or a winter road system.
There are over 124,000 people living in the region with a population that increases exponentially over the summer with cottage owners and vacationers enjoying the multitude of lakes and beaches within our boundaries. We are culturally diverse with Indigenous populations comprising 22 per cent of the region's residents inclusive of 17 First Nation communities. We are designated as an official French Language regional health authority.
Economically the region is diverse and includes agriculture, fishing, mining, forestry, hydroelectric power and tourism. Seasonal recreation is abundant and this activity has a direct impact on the demand for health care services in the region. There is significant disparity across the region in both terms of health and economic status. The majority of our residents report they are in good to excellent health.
The Interlake-Eastern RHA assesses and prioritizes health services based upon the most current information available and best practices. A regionwide focus is placed on health and wellness. Strong community partnerships are essential to our success and value a collaboration approach. We welcome participation with all community groups and are committed to providing comprehensive, integrated and accessible health care services in the achievement of strategic priorities within the Interlake-Eastern RHA.