COVID-19
Navigate the tabs below to find the information you are looking for.
For additional provincial information visit www.manitoba.ca/covid19.
Visitor guidelines
Designated entrances
Please park accordingly as entrance points to facilities may be limited.

To better control the flow of traffic into our hospitals (and clinics and personal care homes where they are attached to a hospital), we are implementing single point of access for the public and we will have people screening at entrances to ensure anyone entering is not ill or meeting any of the criteria for exposure to COVID-19. This means that you will be required to answer some questions upon arrival at any of our hospitals.
We have adopted a single point of access to most health care facilities. Please park accordingly.
Ashern: ED door and also the clinic door until 4:30 p.m.
Arborg: ED door
Beausejour: ED door
Eriksdale: ED door (same as main entrance)
Gimli: Main door & ED door. But, after 4:00 p.m. – only ED door
Pinawa: Main entrance
Pine Falls: ED door
Stonewall: Main entrance
Teulon: Main entrance
Selkirk Regional Health Centre: Main entrance and ED door
Approved visitors must wear a medical mask provided by Interlake-Eastern RHA staff, pass the screening requirement, practice proper hand hygiene, and always maintain physical distancing.
For detailed information, see Essential Care Partner and Visitor Guidelines.
An essential care partner is defined as those providing physical, psychological, and emotional support, as deemed important by the patient.
This can include:
support in decision making, care coordination and continuity of care
family members, close friends or other caregivers identified by the patient or substitute decision maker to provide support
cultural and spiritual support
Vaccination status of essential care partners or patient is not a consideration.
A visitor is defined as someone whose time with the patient is discretionary and short-term/temporary.
This can include:
visits that occur for purposes that are social in nature
individuals who are not involved in the care of the patient
Screening
You can expect to be screened if you are a:
visitor
out-patient
non-RHA courier
community transport driver
dialysis patient
cancer patient
volunteer
Approved visits must occur during visiting hours: 8:30 a.m. to 8:30 p.m.
Exceptions
Manitobans are reminded that there are no valid face mask medical exemption cards available in Manitoba. These cards will not be accepted at Interlake-Eastern RHA.
For exceptions, see Essential Care Partner and Visitor Guidelines.
---
Do your part: Preventing the spread of COVID-19 is everyone's responsibility
Enhanced screening
You will be asked questions about your symptoms, exposure, and travel history related to COVID-19 prior to being granted entry.
Keep your distance
Continue to stay 6 feet away from others, even if you're wearing a mask and are fully vaccinated.
Wear a mask
A medical mask is required, even if you have been fully vaccinated for COVID-19. A mask will be provided prior to entry.
Exceptions for medical reasons will be considered with a note from your health care provider. Exemption cards from the internet are not accepted.
Keep your mask on for the entire duration of your visit, unless instructed otherwise by our staff to receive care.
Wash your hands
Use the hand sanitizer stations available everywhere on our campus to clean your hands.
Germs are everywhere and most are spread by hand contact or coughing and sneezing. Whether at home or in the hospital, proper hand hygiene is one of the single most important ways to stop the spread of infection. Protect yourself and others by covering your cough or sneeze with the bend of your arm or a paper tissue.
COVID-19 Tests / Testing
PCR Tests
PCR testing is now available through primary health care providers in clinics across the region. Visit the Manitoba Government Testing COVID-19 website for more information on eligibility. If a health care provider is requiring you to undertake a PCR test prior to a medical treatment or surgery, please visit your family doctor or primary care clinic.
Rapid Antigen Tests
Please visit the following businesses and health facilities to access test kits. Please be mindful that your test kit has an expiry date.
Health Facilities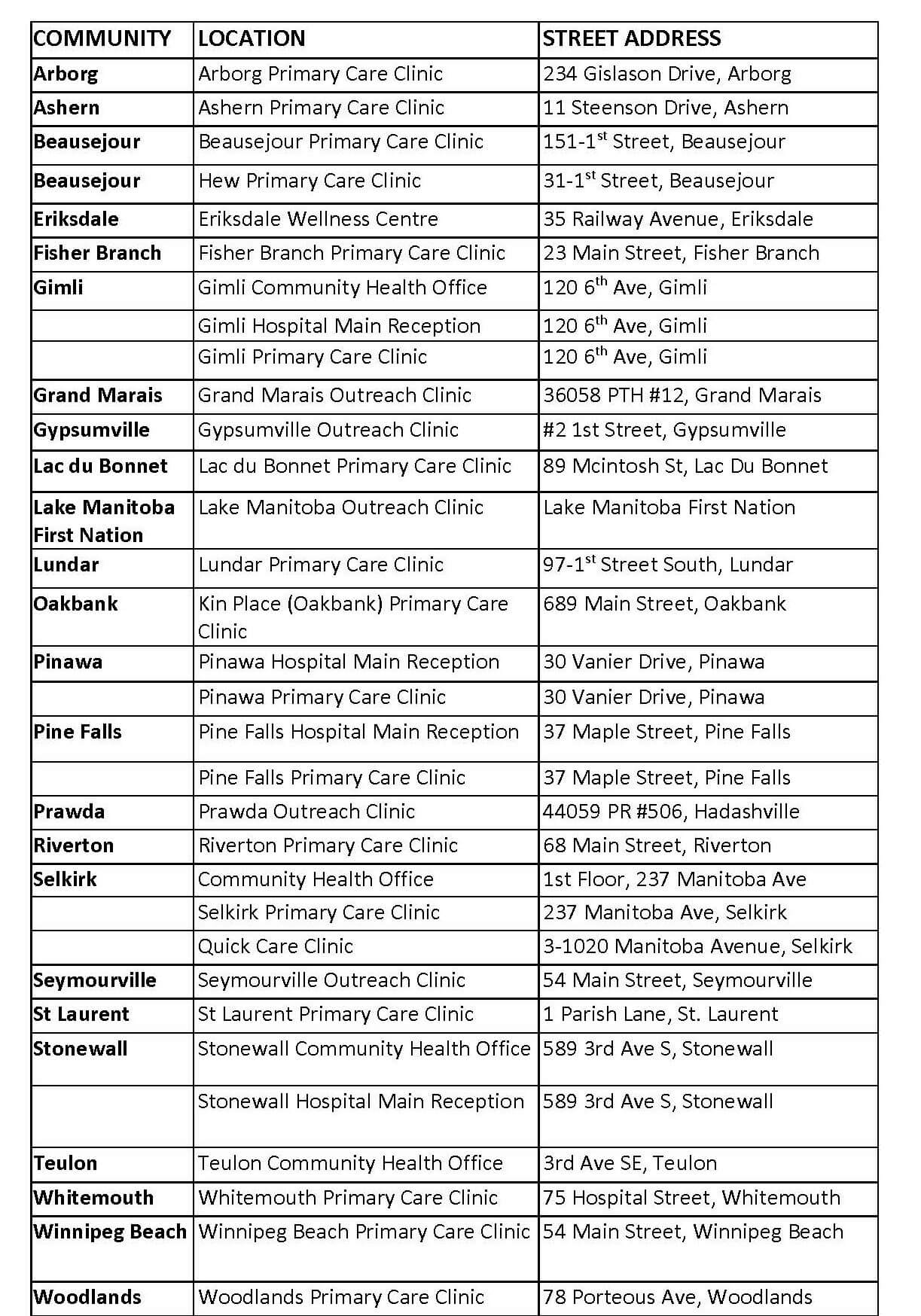 Local Businesses
Please note this information for businesses offering Rapid Antigen Tests may change without notice to the regional health authority. Please call in advance to confirm test availability.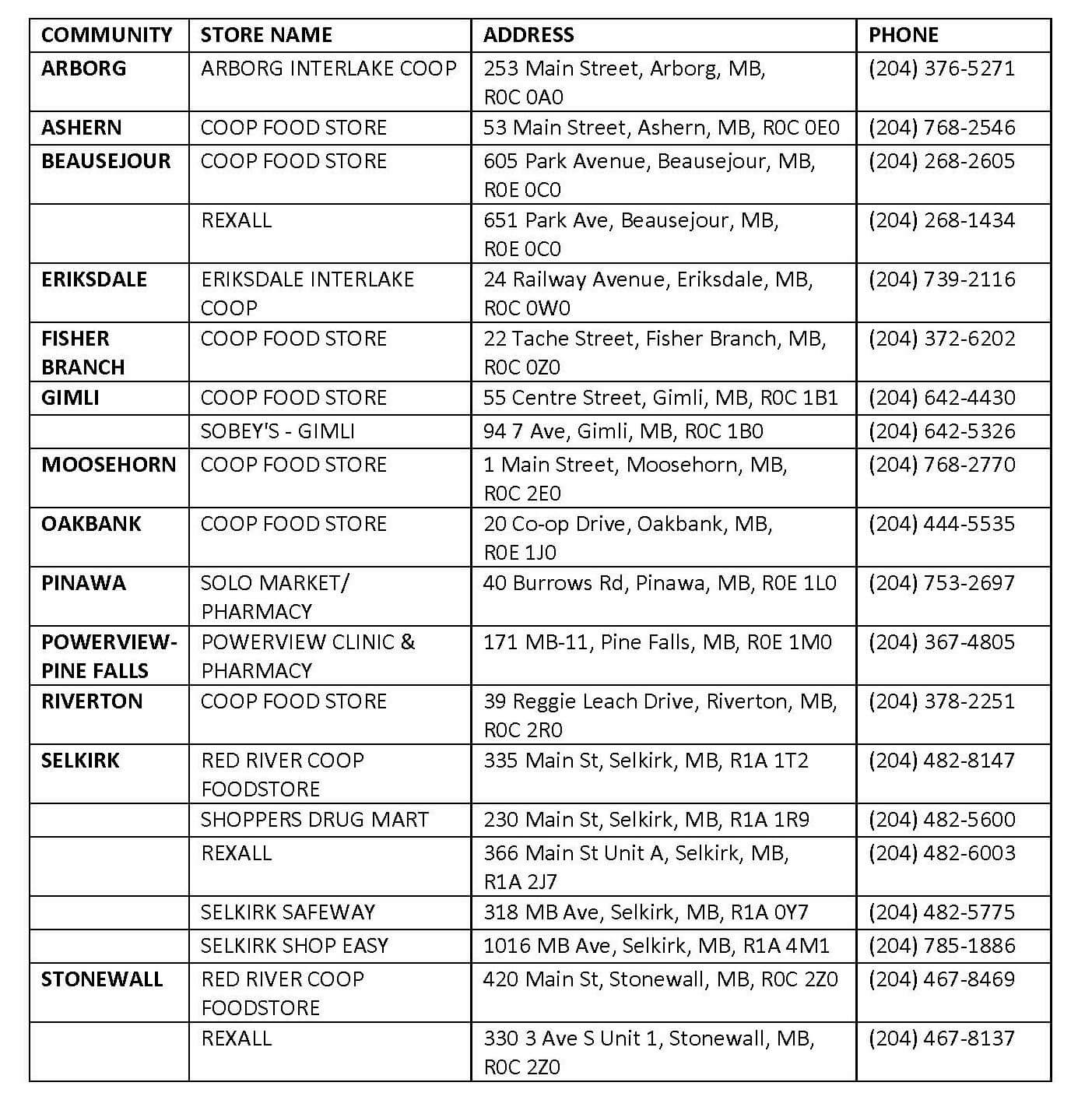 Seniors Organizations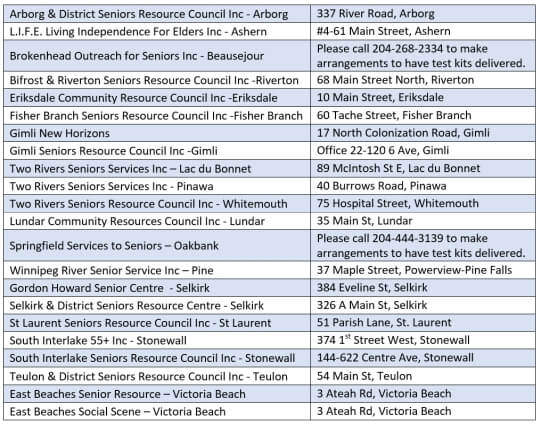 COVID-19 Vaccine
COVID-19 Vaccine Finder
Visit www.gov.mb.ca/covid19/vaccine/finder to find a location near you offering the COVID-19 vaccine.
| | | | |
| --- | --- | --- | --- |
| Community | Clinic Date | Clinic Time | Location |
| Selkirk | May 17 | 10:00 a.m. to 3 p.m. | Gordon Howard Senior Centre-1st Floor |
| Pine Falls | May 19 | 1:00 p.m. to 4:00 p.m. | Pine Falls Health Center |
| Stonewall | May 19 | 1:00 pm. to 4:00 p.m. | Stonewall Legion |
| Gimli | May 20 | 10:00 a.m. to 4:00 p.m. | Gimli New Horizons |
| Lundar Community Health Office | May 20 | 9:00 a.m. to 12:00 p.m. | Lundar Community Health Office (Book at health office by calling 204-762-6505) |
| Eriksdale Wellness Centre | May 24 | 1:00 p.m. to 4:00 p.m. | Eriksdale Wellness Centre (Book at health office by calling 204-739-4455) |
| Teulon | May 25 | 9:00 a.m. to 4:00 pm | Teulon Community Health Office Boardroom |
| Gimli | May 27 | 10:00 a.m. to 4:00 p.m. | Gimli New Horizons |
Appointment Checklist
Help us provide physical distancing and arrive only 15 minutes before your appointment.
Bring your health card, or another type of identification (such as a driver's licence).
Bring your COVID-19 Vaccine Consent Form (found at ProtectMB.ca/Resources).
Wear a mask.
Wear a short sleeved shirt.
If needed, you can bring a helper such as a caregiver or family member (who must also wear a mask).
Be prepared for a 45-minute stay at the site.

Thank you for doing your part in protecting all Manitobans!
You can print this list here: https://wrha.mb.ca/files/covid-19-vaccination-checklist-e.pdf
COVID-19 Vaccine Eligibility Criteria
Visit www.gov.mb.ca/covid19/vaccine/eligibility-criteria for the latest eligibility criteria
COVID-19 Vaccine Information
Visit www.gov.mb.ca/covid19/vaccine for information on the COVID-19 vaccine.