Selkirk Regional Health Centre Expansion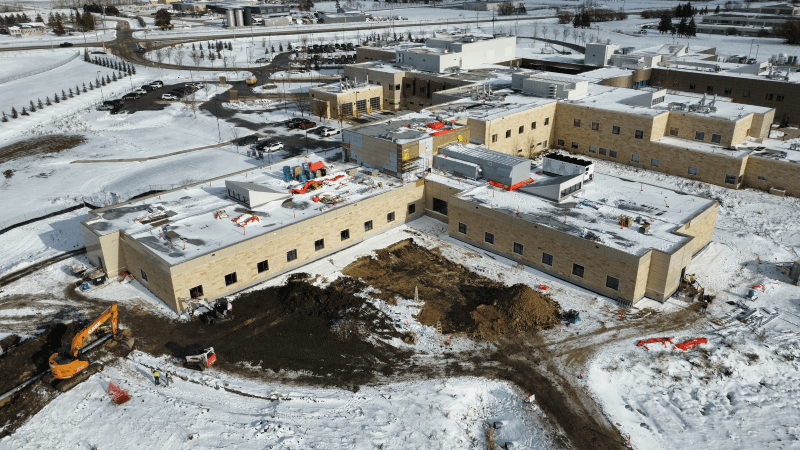 As announced in December 2021, the Government of Manitoba is enhancing health services at Selkirk Regional Health Centre. The investment will fund a significant expansion of the facility, increasing acute care inpatient beds by 30, expand treatment capacity within the emergency department, and enhancing Selkirk's ability to treat and monitor patients.
The site, which provides a wide variety of health services for the region, will be further established with more services, including surgical and inpatient care. The new beds will allow care to be delivered locally for an increased number of inpatients and a higher volume of surgical and endoscopy patients. Surgeries performed at the site will be increased when the renovations are complete. Endoscopy procedures performed at the site have already been increased.
News
Project Photos
Project details
Inpatient addition:
The main floor addition is 28,627 sq.ft. and will provide 30 new inpatient beds, supporting services and penthouse It is divided into three areas – west wing, core and south wing.
West wing
17 private rooms with washrooms
One bariatric isolation room
Med prep room
Therapy tub room
Central care station
Multiple satellite workstations
Multi-use work room
Core
Physician lounge with lockers
Lift and equipment storage
Electrical and mechanical room
Lab storage and tech office
Clinical team manager and clinical resource nurse offices
Patient lounge and staff room
South wing
11 private rooms with washrooms
One bariatric isolation room
Central care station
Report room
Satellite workstation
Emergency department redevelopment:
Interior renovations to the emergency department (718 sq.ft.) are underway
Addition of two new treatment rooms and one new treatment station
New door with full glass panel to the Registration/Triage desk
New access control door hardware at door connecting to existing facility
Targeted Completion
Late 2024