Educational Opportunities
Interlake-Eastern RHA has partnered with the education institutions below to bring health-care training to communities across the region.
Paid Training to become an Uncertified Health Care Aide
Have you already successfully completed this 15-day Uncertified Health Care Aide training program? See Upskill Opportunity for Uncertified Health Care Aides below!
In just three weeks (10 days in classroom and five days at practicum) you can be equipped with the skills and knowledge to begin working in a hospital, personal care home or other health care setting. Find your home in our health system by training as an Uncertified Health Care Aide.
Training is paid and there are no tuition costs.
Positions are available in Interlake-Eastern Health Region.
Find out what paid opportunities exist for you.
Learn more about the program please contact:  Ian Magnan, Recruitment and Community Engagement Officer at 204-340-5596 or email: imagnan@ierha.ca
Upcoming UHCA Courses: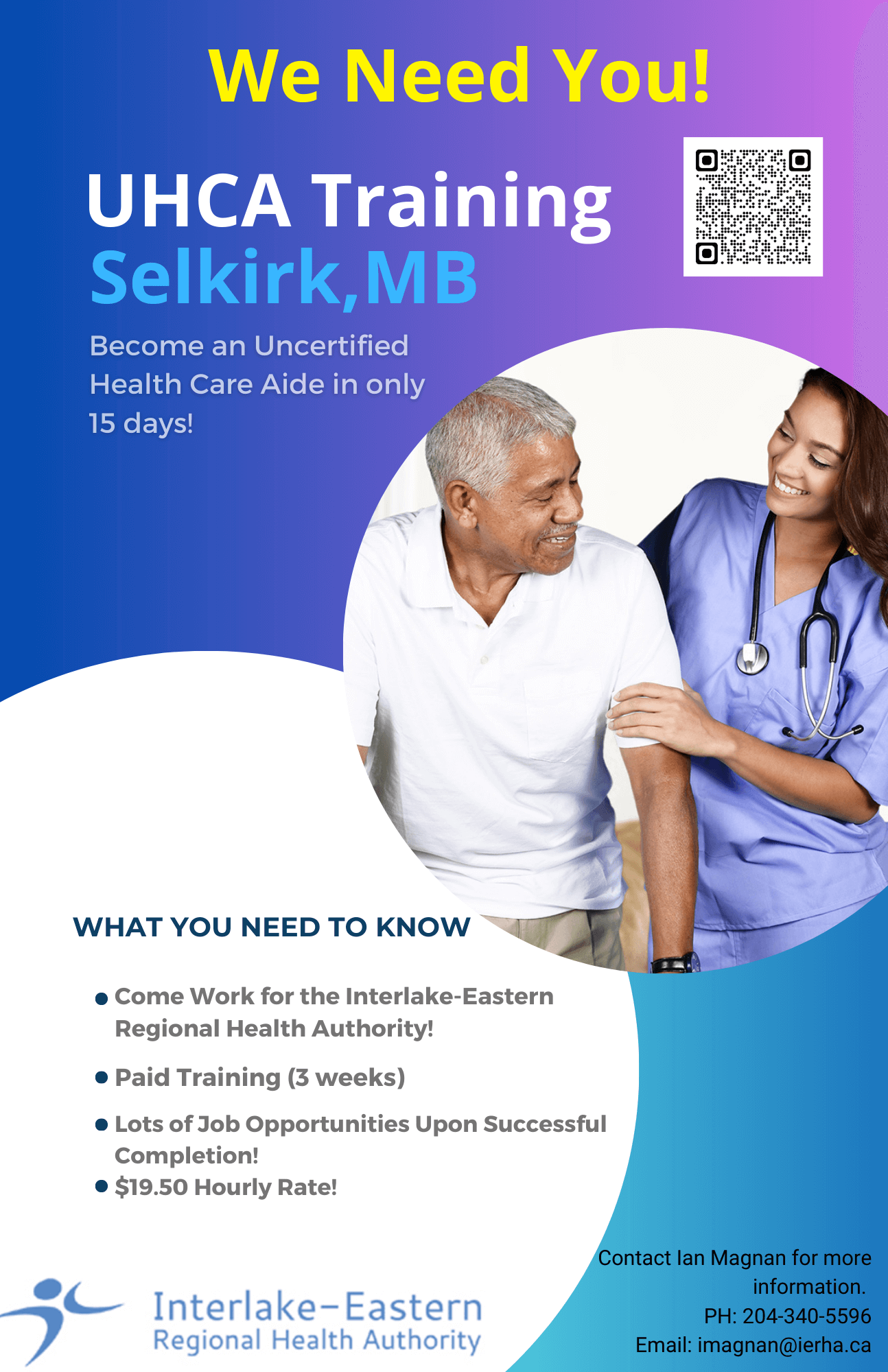 Upskill Opportunity for Uncertified Health Care Aides – become certified!
Have you successfully completed the 15-day Uncertified Health Care Aide training program? Are you interested in increasing your employment opportunities and salary? Consider becoming certified as a Health Care Aide!
In just 24 weeks of part-time study, you can expand your skills and increase your earning potential while continuing to provide essential support and care for Manitobans.
Eligibility Criteria
Minimum 18 years of age.
Grade 12 OR Grade 10 if you are a mature student (19 years of age or older and out of high school for a minimum of one year).
English language competency requirements Level 6 IELTS (International English Language Testing System) or Level 7 CLB (Canadian Language Benchmark).
Successful completion of:

a 15-day Health Care Aide training program; or
a 7-day Health Care Aide micro-credential from Assiniboine Community College, Red River College Polytechnic, or University College of the North; or
other approved course that meets the minimum requirements of the 7-day micro-credential as determined by the regional health authority.

In order to be eligible for the Assiniboine Community College program, Applicants must have worked a minimum of 300 hours within the last 24 months as an uncertified Health Care Aide.
More information on the training program is available here: Comprehensive Health Care Aide Challenge | Assiniboine College
Courses allow flexibility for you to work while you train. Funding is available for eligible uncertified health care aides to complete an approved training program.
Click here to start the application process: Uncertified HCA Bridging Program Applicants – IERHA
Questions? Email us at labourrelations@ierha.ca
Health Care Aide Programs
Red River College Polytech in partnership with Fieldstone Ventures
Health Care Aide Course in Eriksdale area – Starting January 2024
Contact Fieldstone Ventures ASAP if you are interested 204-768-3797 or 1-888-777-1059
Education Courses offered by the RHA
We offer some of our staff courses like Mental Health First Aid and Wound Care Level 2 to the public for a cost. To attend one of these courses, individuals must fill in an External Applicant Registration Form. Questions? Please contact: education@ierha.ca
r studies.
Learn more: https://www.rrc.ca/ltc/programs/permanent-residents/esp/health/